Elysian Medi Spa
We invite you to come sample a little taste of paradise.
Welcome to our special promotions page. We at Elysian, know everyone likes to get a "deal" once in awhile and with great consideration we are excited to be offering on occassion a "Deal of the Week" plus our regular Monthly promotions. We want to give back to our amazing loyal clientelle, as well as give anyone that has never visited Elysian a chance to try some of our services at a great price. If you want to be the first to know when new programs and deals are offered, please
sign our guestbook
to receive our e-newsletter. You can also join our Facebook Fanpage and see what's going on all the time.
​
Special Offers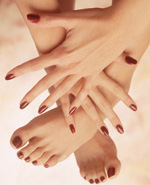 New Client Spa Package

We invite you to experience a little taste of paradise while you enjoy a manicure, pedicure and 60 minute massage. All three services must be done at one visit. Please ask for details when booking appointment. Give us a call and book your appointments today.
Regular Price for All 3 services $125
Now with Package ONLY $110
Enjoy 3+ hours of Relaxation and Rejuventation
Add Shellac to Hands and Feet for additional $15 (reg $20)
Add Scrub and Parafin for addistional $15 (reg $20)