Elysian Medi Spa
Experience excellence in service when you visit us!
We offer Sharp Light Laser Hair Removal and Skin Rejuvenatation, Nail Care, Skin Care, Massage & Bodywork, Eyelash Extensions and more! Our experienced staff will help you determine the best services for your needs and deliver the kind of quality and value you expect from a professional day spa. Our relaxing, home environment is designed to make your experience enjoyable and leave you feeling inspired and relaxed! Check out our complete service menu below to get a feel for what we do.
Please note: Service prices and availability are subject to change without notice.
Cancelation Policy is as follows
Less than 24 hours full charge of services booked on more than 2 services
Less than 48 hours 50% of all services booked
Groups larger than 2 require 72 hours notice (50% charges apply on any less notice)
Special Occasion Services
Complete bridal party services and group treatments for special occasions.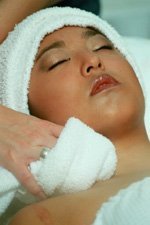 Bridal Package for the Bride
ONLY $180 (Value $215)


Manicure with Shellac (within the week of the Wedding)
Pedicure with Shellac (within the week of the Wedding)
Facial (at least a week before)
One hour Relaxation Massage (anytime you feel you need it)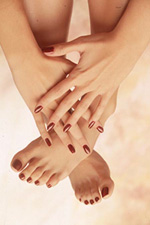 Bridal Spa Package
4.5 hrs of total pampering $195(Value $230)
YOU SAVE $33
Spa Pedicure with Shellac
Manicure with Shellac
Facial
Body Polish Treatment (includes light massage)
Return to Top
Our Policy:
As we are a home based Spa, appointments are always necessary. All appointments are to be booked ahead (sorry no walk-in apt's allowed) If you need to cancel an appointment we appreciate at least 48 hours notice for single service appointments. All bookings over $50, or small groups require a credit card on file to secure your appointment and we require 72 hours cancelation for small groups. There will be a 50% charge if cancelation less than required time and full charge for no shows.
We appreciate your understanding in this matter as our available hours are valuable and other quests may be waiting for an appointment.